TRILLIUM PHOTOGRAPHIC CLUB HISTORY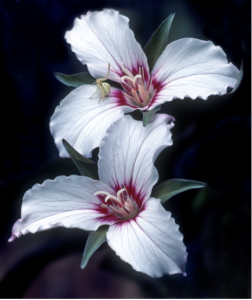 The purpose of history is to create a pride in past achievements, record the present and hopefully stimulate goals for the future.  History does not lie buried but provides guidelines for the present and thoughts for the future.
1992 – TRILLIUM PHOTOGRAPHIC CLUB  IS BORN
In 1992 the Trillium Photographic Club was formed.  The founding/inaugural meeting was on May 26, 1992.  The club came about with the merger of the Colour Photographic Club of Hamilton and the Colour Photographic Club of Burlington.
The original meeting to discuss the possibility of a merger was hosted by David Seldon of the Colour Photographic Club of Hamilton, who was instrumental in suggesting the merger.  Three members from each club attended:  Ron Pett, President of the Hamilton Club; Graham Jardine, President of the Burlington Club; Vic MacBournie (B), John MacRae (H), Betty Mercer (B) and David Seldon (H).  Subsequent planning meetings brought in other members.
The clubs' goals, cultures and activities looked like a close fit and CPCH was amenable to using our location and schedule, so it would not be a big a change for our members.  For CPCH, it was a switch from Thursdays to Tuesdays and a different location.  We worked through the details of how the new club would operate and put the proposal to both clubs at our annual meeting in the Spring. The Clinics were run the same way in both clubs so it was an easy transition.  It was agreed to retire all the old trophies and not have new ones except for Slide of the Year.  A member from Burlington and Hamilton shared the first year as Co- Presidents. It was received positively and the rest is history.
The name "Trillium" was chosen because many of us liked to photograph nature and trilliums were a special subject, as well as being Ontario's official flower.  However, the "Tri" also represented the three main communities from which members were drawn – Oakville, Burlington and Hamilton.  Carol Mooney suggested the name.
The Trillium Logo was designed by Michelle Sharp.  The overall design represents the  front of a camera lens and includes the Trillium (actually there are two if you look closely).  The hexagon in the centre represents the shutter opening of a camera.
Carol Mooney and David Seldon wrote the Constitution.   The first Trillium Handbook was put together in 1997.
Trillium started with a membership of 109 in 1992.
In 2011 the membership stands at 104.
Past Awards and Winners:
1993
Proficiency
Masters
Rino Masaro
Gold
David Seldon
Silver
Tarik Erbas
Bronze
Michele Clarke
Slide of the Year
Rino Masaro – Hole in the Ozone
1994
Proficiency
Masters
Rino Masaro
Gold
David Seldon
Silver
Leonie Holmes
Bronze
Rob Boak
Slide of the Year
Stuart McPherson, Fall Colour
1995
 Proficiency
Masters
Rino Masaro
Gold
David Seldon
Silver
Rob Boak
Bronze
G. Rae
Slide of the Year
Dorothy deKiewiet (D. Riley) – Farming Behind Taj Mahal
1996
Proficiency
Masters
Rino Masaro
Gold
Earl Reinink
Silver
Wayne Barton
Bronze
Don Parsons
Slide of the Year
Jim McKeen – Golden Ripples
1997
Proficiency
Masters
Bob Walling
Gold
Earl Reinink
Silver
Rob Boak
Bronze
Don Parsons
Slide of the Year
Margaret Grant – Quiver Trees
1998
Proficiency
Masters
David Seldon
Gold
Clara Parsons
Silver
Janet Kempster
Bronze
Blake Calder
Slide of the Year
David Seldon – Mute Swan
1999
Proficiency
Masters
David Seldon
Gold
Clara Parsons
Silver
Don Parsons
Bronze
Joan Muir
Slide of the Year
Margaret Grant – Dune of The Namib
2000
Proficiency
Masters
David Seldon
Gold
Tarik Erbas
Silver
Dorothy deKiewiet
Bronze
Karen Major
Slide of the Year
Janet Scott – Eduardo
2001
Proficiency
Masters
Rino Masaro
Gold
Tarik Erbas
Silver
Blake Calder
Bronze
Carolyn Bishop
Louise Elder Wildflower Award
Tarik Erbas – Lily
Slide of the Year
Margaret Grant – The Blue Door
2002
Proficiency
Masters
Rino Masaro
Gold
Clara Parsons
Silver
Janet Scott & Merle Soucie
Bronze
Rod MacDonald
Louise Elder Wildflower Award
Leonie Holmes – Timothy Grass
Slide of the Year
Margaret Grant – The Seamstress
2003
Proficiency
Masters
David Seldon
Gold
Don Parsons
Silver
Rod MacDonald
Bronze
Don Corby
Louise Elder Wildflower Award
Don Corby – Black-Eyed Susan
Slide of the Year
Betty Mercer – Churchyard Design
2004
 Proficiency
Masters
David Seldon
Gold
Janet Kempster
Silver
Rod MacDonald
Bronze
Michael Graham
Louise Elder Wildflower Award
Don Corby – Purple Coneflowers
Slide of the Year
Mary Gilmour – Snowy Owl
2005
Proficiency
Masters
Clara Parsons
Gold
Mary Gilmour
Silver
Don Corby
Bronze
Yvonne Cunnington
Merit Award
Masters
Clara Parsons
Gold
Janet Kempster
Media Award
Clara Parsons
Louise Elder Wildflower Award
Mary Gilmour, Bunchberries &
Clara Parsons – Jack-in-the-Pulpit
Slide of the Year
Brian Clewely – Old Schoolhouse Children
2006
Proficiency
Masters (Tied)
Rino Masaro & Bob Walling
Gold
Janet Kempster
Silver
Terry Ross Poulton
Bronze
none
Louise Elder Wildflower Award
Don Corby – Yellow Lady-Slipper
Slide of the Year
David Seldon – Red-Winged Blackbird
2007
Proficiency
Masters
Clara Parsons
Gold
Don Corby
Silver
Yvonne Cunnington
Bronze
Marilyn Jarrett
Merit Award
Rino Masaro
Single Medium Award
John Mullenger – Prints
Clara Parsons – Slides
Janet Kempster – Transparencies 35mm
Louise Elder Wildflower Award
Don Corby – Purple Aven
Slide of the Year
Janet Kempster – Peaking Out
2008
Proficiency
Masters
Clara Parsons
Gold
Terry Ross-Poulton
Silver
Gary Love
Bronze
Gregg Parsons
Merit Award
Rino Masaro
Single Medium Award
Clara Parsons – Slides
Bob Walling – Prints
Louise Elder Wildflower Award
Clara Parsons – Calapogan
Slide of the Year
John Overmeyer – Blacksmith
2009
Proficiency
Masters (tied)
Janet Kempster & David Seldon
Gold
Marilyn Jarrett
Silver
Gregg Parsons
Bronze
Fergus Chapman
Photographer of the Year
Janet Kempster
Louise Elder Wildflower Award
Janet Kempster – Meadow Blazing Star
Slide of the Year
Jim Hamilton – Abandoned Chair
2010
Proficiency
Masters
David Seldon
Gold
Gary Love
Silver
Peter Bartens
Bronze
Lisa Horvath
Photographer of the Year
Janet Kempster
Louise Elder Wildflower Award
Martha Shuman – Shagbark Hickory
Slide of the Year
Mary Gilmour – Yellow Tulip
2011
Proficiency
Masters
David Seldon
Gold
Gary Love
Silver
Lisa Horvath
Bronze
David Evans
Photographer of the Year
Janet Kempster
Louise Elder Wildflower Award
John Shuman – Wood Anemone
Slide of the Year
Veronica Feenstra – Cherub
2012
Proficiency
Masters
Gary Love
Gold
Joe Iocco
Silver
David Evans and John Strung
Bronze
Ed Espin
Photographer of the Year
Janet Kempster
Louise Elder Wildflower Award
Sandy Bell – Jack-in-the-Pulpit
Slide of the Year
Lisa Horvath – Women in New Delhi
2013
Proficiency
Masters
Joe Iocco
Gold
John Overmeyer
Silver
Steven Clark
Bronze
Rob Cook and Kathi Lesti
Photographer of the Year
Janet Kempster
Louise Elder Wildflower Award
Natalie Murphy – Columbine
Slide of the Year
Elephant Scuffle – Marilyn Jarrett
2014
Proficiency
Masters
Gary Love
Gold
John Schuman
Silver
John Strung
Bronze
Caroline Bennett
Photographer of the Year
John Overmeyer
Louise Elder Wildflower Award
Don Corby – Aven with Seedhead
Slide of the Year
Irina With Head Cover – Lisa Horvath
2015
Proficiency
Masters
Joe Iocco
Gold
Heather Engel
Silver
Art Ward
Bronze
Bela Acs
Photographer of the Year
John Overmeyer
Louise Elder Wildflower Award
Don Corby – Yellow Lady's Slipper
Slide of the Year
Owl – John Overmeyer
2016
Proficiency
Masters
David Seldon
Gold
Jim Thomson
Silver
Bela Acs
Bronze
Pat Wintemute
Photographer of the Year
John Overmeyer
Louise Elder Wildflower Award
Doug Doede – Dandelion
Slide of the Year
Walked By – Bela Acs
2017
Proficiency
Masters
Gary Love
Gold
Bela Acs
Silver
Pat Wintemute
Bronze
Geoff Dunn
Photographer of the Year
Kathryn Martin
Slide of the Year
Moustache Boris – Bela Acs
2018
Proficiency
Masters
David Seldon
Gold
Bela Acs
Silver
Geoff Dunn
Bronze
Brian Floyd
Photographer of the Year
Bela Acs
Slide of the Year
Alaskan Brown Bear – Marilyn Jarrett
2019
Proficiency
Masters
John Overmeyer
Gold
Bela Acs
Silver
Brian Floyd
Bronze
Photographer of the Year
John Overmeyer
Slide of the Year
Chrysanthemum – Claudia Povilauskas
2020
Proficiency
Masters
Bela Acs
Gold
Judy Boufford
Silver
Peter Chow
Bronze
Mike Mulvale
Photographer of the Year
Judy Boufford
Slide of the Year
Like Me Or Not – Bela Acs
2021
Proficiency
Masters
Kathryn Martin
Gold
Judy Boufford
Silver
Mike Mulvale
Bronze
Malcolm Stagg
Photographer of the Year
Kathryn Martin
Louise Elder Wildflower Award
Ela Piskorz – Wild Geranium
Slide of the Year
Snack Time – Ed Espin
2022
Proficiency
Masters
Greg Alderson
Gold
Ed Espin
Silver
Carey Hope
Bronze
Photographer of the Year
Kathryn Martin
Louise Elder Wildflower Award
Kathryn Martin – Common Chicory
Slide of the Year
A Better Idea – Doug Doede
2023
Proficiency
Masters
Greg Alderson
Gold
Geoffrey Skirrow
Silver
Peter McCuster
Bronze
Laura Nelson and Barbara Bialon
Photographer of the Year
Greg Alderson
Louise Elder Wildflower Award
Geoffrey Skirrow – Crimson Columbine
Slide of the Year
Alakazam – Bertin Francouer